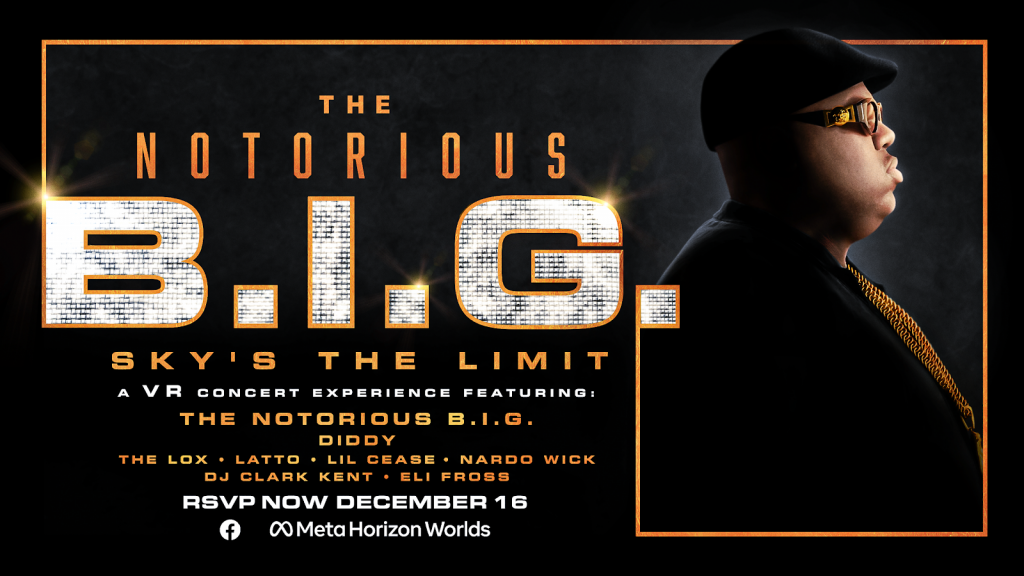 `The Notorious B.I.G. Sky`s The Limit: A VR Concert Experience` will premiere December 16 exclusively inside Meta Horizon Worlds to celebrate his life and legacy within a virtual recreation of 90`s Brooklyn called `The Brook`.
The Notorious B.I.G., whose real name was Christopher Wallace, was murdered in 1997 at the age of 24. This concert is a celebration of Biggie`s 50th birthday year.
The concert which is produced in collaboration with the Notorious B.I.G. Estate, it will feature Biggie`s avatar performing classics from his catalog. 25 years after his death, The Notorious B.I.G will be resurrected as a `true-to-life, hyperrealistic` avatar.
In the VR experience, audiences will follow a day in Biggie`s life through a narrative journey written voiced by writer and music journalist Toure. The concert will also feature guest performances by Sean `Diddy` Combs, The Lox, Latto, Nardo Wick and Lil` Cease, as well as a special set from DJ Clark Kent.
Voletta Wallace, who is Biggie`s mother, said, `Having the ability to create a variance of new opportunity to showcase my son Christopher`s music through the advancement of technology is hard for me to grasp at times. However, I`ve found so much excitement in the process of developing his avatar, understanding the value added for fans to experience him in ways unattainable until now.`
Mark Pitts, Biggie`s manager and president of RCA Records, said, `It`s amazing to create new content for B.I.G. The world was robbed of an opportunity to watch Biggie grow and evolve as an artist. The wonder of Web3 is that it gives us an opportunity to celebrate his music with visuals that Biggie never got to make.`
Mark your calendars: The Notorious B.I.G. Sky`s the Limit will premier in Worlds on December 16!!
You can watch the 2D version of the show here if Meta Horizon World is not available in your country. https://www.facebook.com/NotoriousBIG/
(Currently Meta Horizon World is available to people 18+ in the US, Canada, the UK, Iceland, Ireland, France, and Spain on Meta Quest 2 and Meta Quest Pro.
Author: Crypto Shoks
Reference: https://www.oculus.com/blog/notorious-big-biggie-vr-concert-latto-diddy-jadakiss/