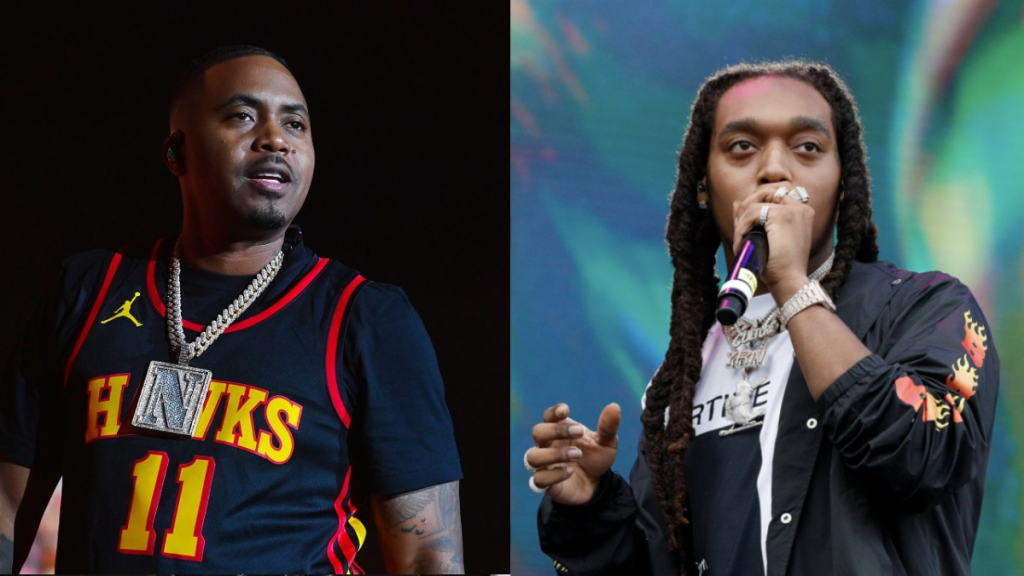 It's still recent news that TakeOff was gunned down in Houston on November 1. Tributes have continued pouring in for him since.
Nas is one of them, and he took a moment out of his King's Disease release party to pay tribute to TakeOff and offered a powerful message to the Hip Hop community.
Nas shouted out to the rapper twice, offering condolences to his family. He said,
'We're trying to tell these people out here, man, we're here for a purpose. We can't be destroying each other over bullshit. Look at these little brothers and be like don't shoot; don't throw your life away. It ain't worth it. There's something to live for, something to be here for. All that tough shit is cool when you're growing up, but we gotta learn that we're here for a purpose, and there is a design that's out here to make sure we don't grow, to make sure that we don't make it. And we gotta recognize that there is something in existence that's trying to stop the youth from the hood from growing into its proper purpose.'
Like Nas, several members of the Hip Hop community have used this tragedy to address the gun violence that has claimed so many young artists.
On Friday, November 11, thousands of fans, collaborators, friends and relatives gathered for TakeOff's memorial service in Atlanta. The people who gathered at State Farm Arena included Gucci Mane, Rich The Kid, City Girls, CeeLo Green, YG, Murda Beatz, Mustard, Lil Yachty, Teyana Taylor, Russell Simmons.
During the nearly 3 hour ceremony, Drake was photographed addressing the crowd, and shots were captured of Justin Bieber's performance. The Atlanta mayor Andre Dickens also presented TakeOff with the city's highest honor, The Phoenix Award, which is presented to those who have made significant contributions to the city.
These show that thousands of people are hoping that the world will become a better place. Not a world with violence and tragic deaths, but a world that is full of love and peace.
Reference: https://hiphopdx.com/news/nas-message-takeoff-death