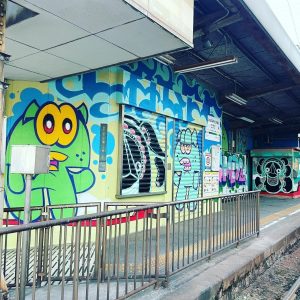 A movement is now taking place in the Hankai Railway where artwork is being painted on stations, and they are turned into something brand new!
Two days ago, SHINGO★Nishinari posted on his Twitter how the students of Hannan University painted an artwork at Seitenzaka Station.
This artwork is a part of `Nishinari Wall Art Nippon`, a.k.a. `Nishinari WAN`, in which SHINGO★Nishinari participates as a general producer to clean up the streets of Nishinari Ward by erasing scribbles in the area and having artists paint their works to create a lively and active atmosphere. The train station was beautified with the cooperation of `Nishinari WAN` and local residents. According to Hankai Electric Railway, the company plans to continue painting artwork on stations and station buildings to enhance the value of the Hankai Train Line.
Being a friend of SHINGO★Nishinari, I really respect his activities to make the Nishinari District better. One of the examples is `Rice Donation Live`. I believe that those activities that shows the love to the hood and giving back to the local community are exactly what HIPHOP is all about and what we at GOOD DEED are striving to achieve.
Starting with the activities of SHINGO★Nishinari, I hope that artists from the ghetto areas all over Japan will follow the movement to give back to their hometowns, and as a result the world will be filled with peace and love.
Writer: MC MACKO